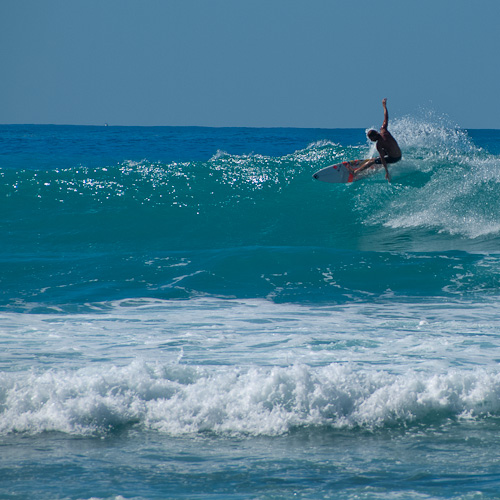 Surf was still up today – but so was the vog – that would be Volcano smOG. And the grass fires continue – so the air was gray today. Hence, another surf pix from yesterday.
Speaking of our grass fires. The same 3 fires have been going on since before Xmas. The fire department is starting to come under criticism and ridicule over its inability to put out the fires. The fire department gives out all manner of helpful hints about dealing with the smoke: leave the area, don't smoke cigarettes, keep your windows closed.
I just "finished" 2003. Down to 1,564 images. I'll make another couple of passes thru – deleting more. But, since I started with well over 6,000 – I am pleased.
Carlton is playing "museum guard" tonight. His Palace was rented for a wedding – they will feed him – and yours truly will truly enjoy having a beer and cheese sandwich for dinner.
Oh, the problems of the leisure class: I am having trouble with the "help". As in "It is hard to get good help these days". As a economy measure our hotel seems to have replaced many of the experienced maids with new, just off the plane from the Philippines girls. They are nice as can be – but – it takes them 30 minutes to "clean" a room – if they don't have to change sheets. Hence our room does not get around to being cleaned until after 4PM. Not acceptable. Tomorrow I am going to point out that it is just as easy to start with my room as to finish the day with my room. If they can not manage that – I'll tell management that I'll clean my own room thankyouverymuch – but please reduce my daily tariff by $5.