Yesterday afternoon it started raining and it will apparently rain for the foreseeable future. With the chance of some "tropical storm rain" later in the week.
Today was an inside day. Puttered around with my images from 2017. Want to be sure they are all nicely cataloged and stashed away. Maybe I can finish it up tomorrow.
News from The Asylum: one of the old ladies gave a "Still Not Dead Yet" party this afternoon. Apparently, a couple of years ago she gave a "Not Dead Yet" party – and she had so much fun that she decided to do it again. Sort of a funeral for the undead.
And, the Old Bat had a fun "senior" adventure this morning. I lost my Apple Pencil. I KNEW it HAD to be somewhere in the apartment. Which is less than 600 square feet.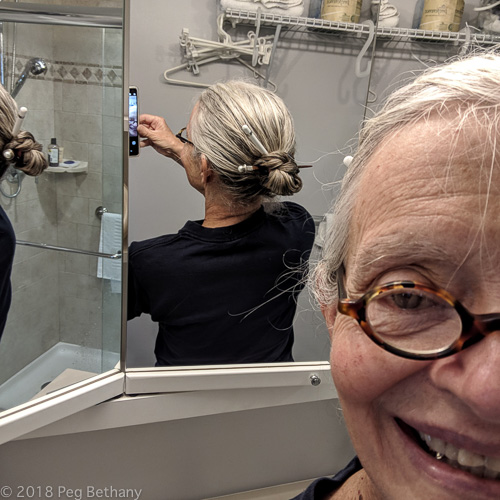 Well, I found it. Stuck in my wet hair. Now, let me review my "senior" week:
Tuesday: One of the maintenance guys wanted to carefully explain to me how to use my new "technology-assisted" toilet seat. Major embarrassing.
Thursday: I almost screwed my head into a cat tree that I was trying to put together. Some assembly required.
Saturday: Lost $98 "pencil" in my hair.
Wonder what trouble I can get into tomorrow?