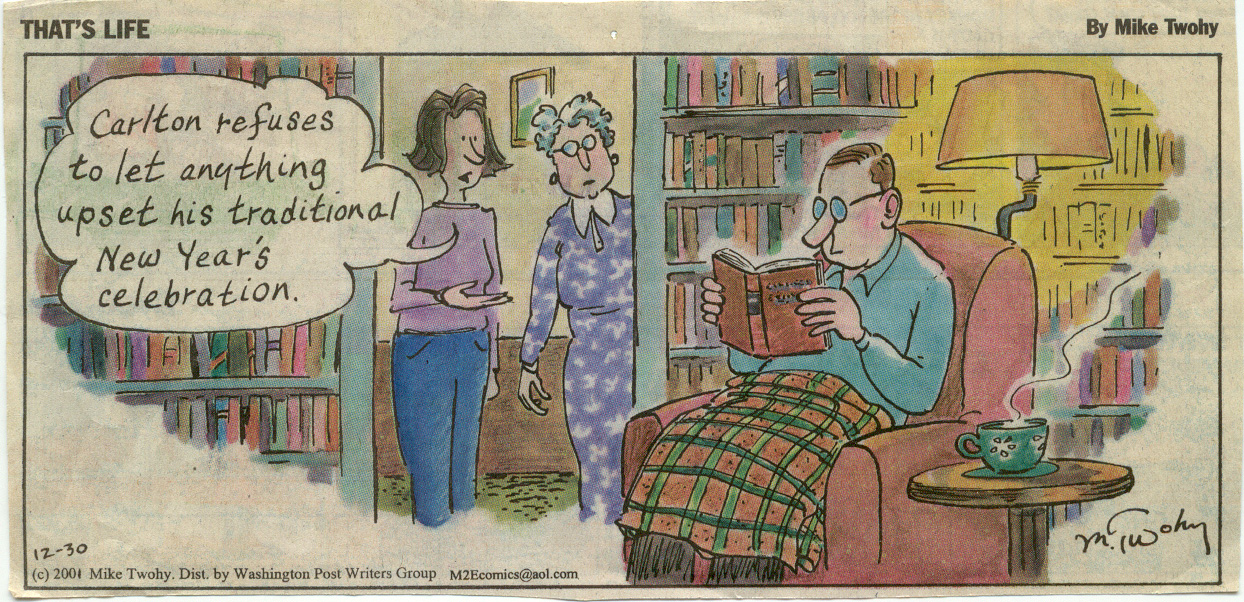 Here it is again. Carlton's perfect New Year's Eve. Except in later years, the book was replaced by his Kindle.
This has been a really crappy year. But, it could have worse. And 2021 doesn't show much promise in the early days of the year. But, remember…
65,000,000 BC – that was most likely the worst. Your giant asteroid that wiped out 75% of life on the planet including every single dinosaur. That had to be Worst. Year. Ever. For dinosaurs at least.
1348 – The Plague in Europe. 1/3 of the population dies. This one gets my vote.
1492 – That wasn't a very good year for the existing population of the Americas.
1837 – The Panic (financial) of 1837. This was a US thing. And, I know it would get Carlton's vote for worst year ever. But, he wouldn't have been a happy camper in 2020.
Gratitude
---
Grateful for the strange blessings of 2020. I discovered that I have a much greater ability to "accept those things that I can not change" than I ever imagined. Over the years, I have spent a lot of energy tilting at windmills. Next, I need to work on "and the wisdom to know the difference". This would be the AA Serenity Prayer – lifted from Reinhold Niebuhr
God grant me the Serenity to accept the things I cannot change,
Courage to change the things I can, and
Wisdom to know the difference.
---
No new Covid cases today and our most vulnerable people were vaccinated yesterday. Plus some of the staff. That might start heading us in the correct direction. Next Year.
Mālama Pono