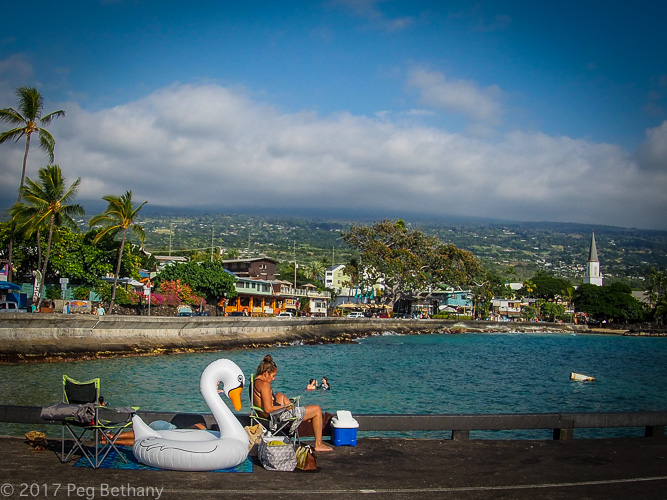 I am better than I was at this time yesterday. I even took a couple of pictures. Didn't wander far. Just up the hill to the closest grocery for sushi. And across the street to the pier to get a little sun. I do not regret cancelling my Xmas plans. Secret Santa is a welcome guest. Typhoid Mary – or – Rhinovirus Peg – is not.
Local paper had an article about an acquaintance of mine – A flower arranger. When he was 12 years old his job was to do flowers for John Wayne's wedding. (Right here in exciting Kailua-Kona, Nov 1, 1954) Seems that Lana Turner was also staying at the Kona Inn at the time and the Hotel kicked The Duke out of the best suite in favor of Lana. I knew about the flowers, but never heard the Lana Turner part of the story.
Long time readers may recall that Paul Allen owns 5 acres across from the pier. He frequently comes over around Xmas. I think it depends on his health and how his football team is doing. But, this afternoon I noticed that there were cushions on his chairs. So, maybe he'll be here. (That means we'll have fireworks. The village can not afford fireworks. Mr Allen can afford all the fireworks he wants.)
So, Happy Xmas Eve. Instead of feasting and partying – I will be having sushi with extra wasabi and resting. It is all good.