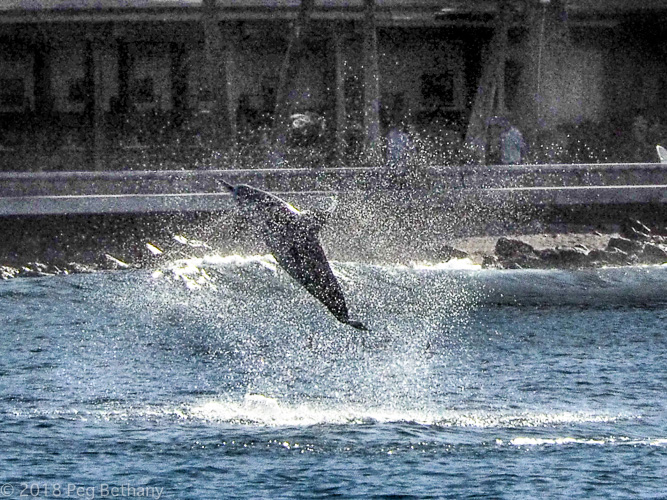 Early this morning, I saw half a dozen dolphin boats out my window – so – grabbed the big camera and went down to see what was happening.
The dolphins were very close in. But, there were lots of boats. And, at the end of my swim yesterday I helped a visitor who was in some difficulty back to the pier. Nothing dramatic or heroic – she was just frightened by the current that the cruise ship tenders kicked up. And, so wouldn't believe me that the way back to shore was not by getting closer to the seawall – but to leave the "safety" of the wall and swim back out into the ocean and then swim towards the pier. And, to time it all with the comings and goings of the tenders. I didn't put myself or her in any danger – but I did use up a lot of energy. So, I watched the dolphins from the end of the pier.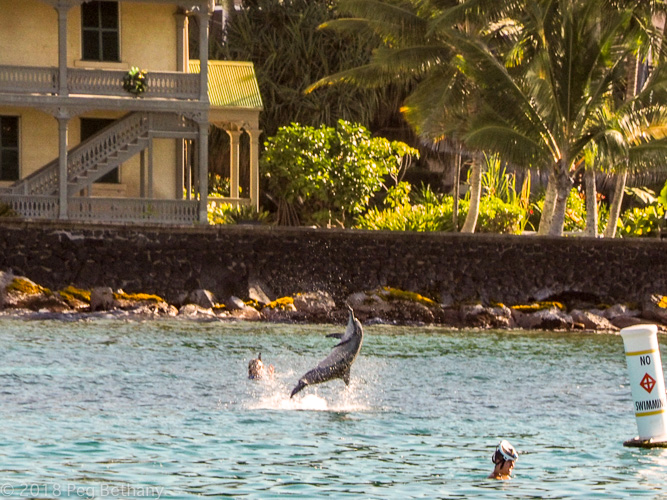 The dolphins put on a fine show right where Carlton "rests". Feel sure that he was pleased. And, I know that he was pleased that I wasn't out swimming around. Chasing dolphins and not paying 100% attention to my location  in relation to the boats etc. 
Yesterday was the Xmas Parade. As usual, it was great. Read in the paper the other day the Hawai'i was rated last in the country for Christmas spirit. They were counting things like gingerbread houses, trees sold, yard decorations. Well, never mind that a large percentage of the population isn't Jewish or Christian, electric rates are out of sight, trees have to come in from Washington on barges, and it is hot… But, Hawai'i has great Xmas Parades. And, the smaller the community – the funkier the parade.
So, for the next couple of days – there will be parade pictures.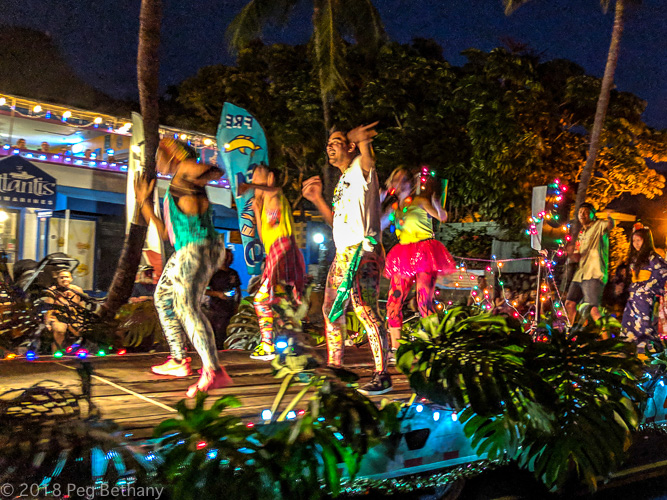 Doesn't men doing Zumba get you into the Holiday Spirit(s)?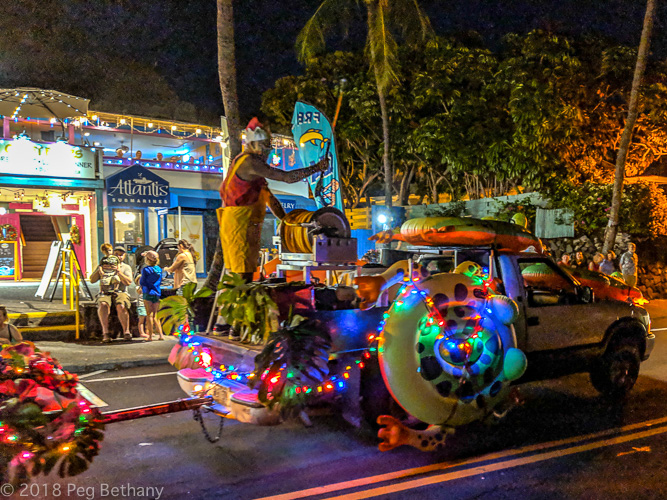 But this guy, he was my very favorite 2018 Kailua-Kona Christmas Parade float. Your friendly neighborhood Frog Exterminator. He wasn't passing our candy! But, he was making coqui frog sounds.
. . .
On some great and glorious day the plain folks of the land will reach their heart's desire at last, and the White House will be adorned by a downright moron. H.L. Menchen, Baltimore Sun, July 26, 1920.